Endorsements
In 2017, American Veteran Marvin Strombo was able to return, in person, the Yosegaki Hinomaru (Non-Biological Human Remains) he brought back with him from WWII to the family of the deceased soldier it belonged to. Upon Admiral Harris's receiving our letter informing him of this trip, he wrote back in support of OBON SOCIETY's work and shared the story of this return with the Public Affairs team at the Marine Corps Air Station in Iwakuni, Japan. He expressed the importance of OBON's work in terms of national reconciliation and communication.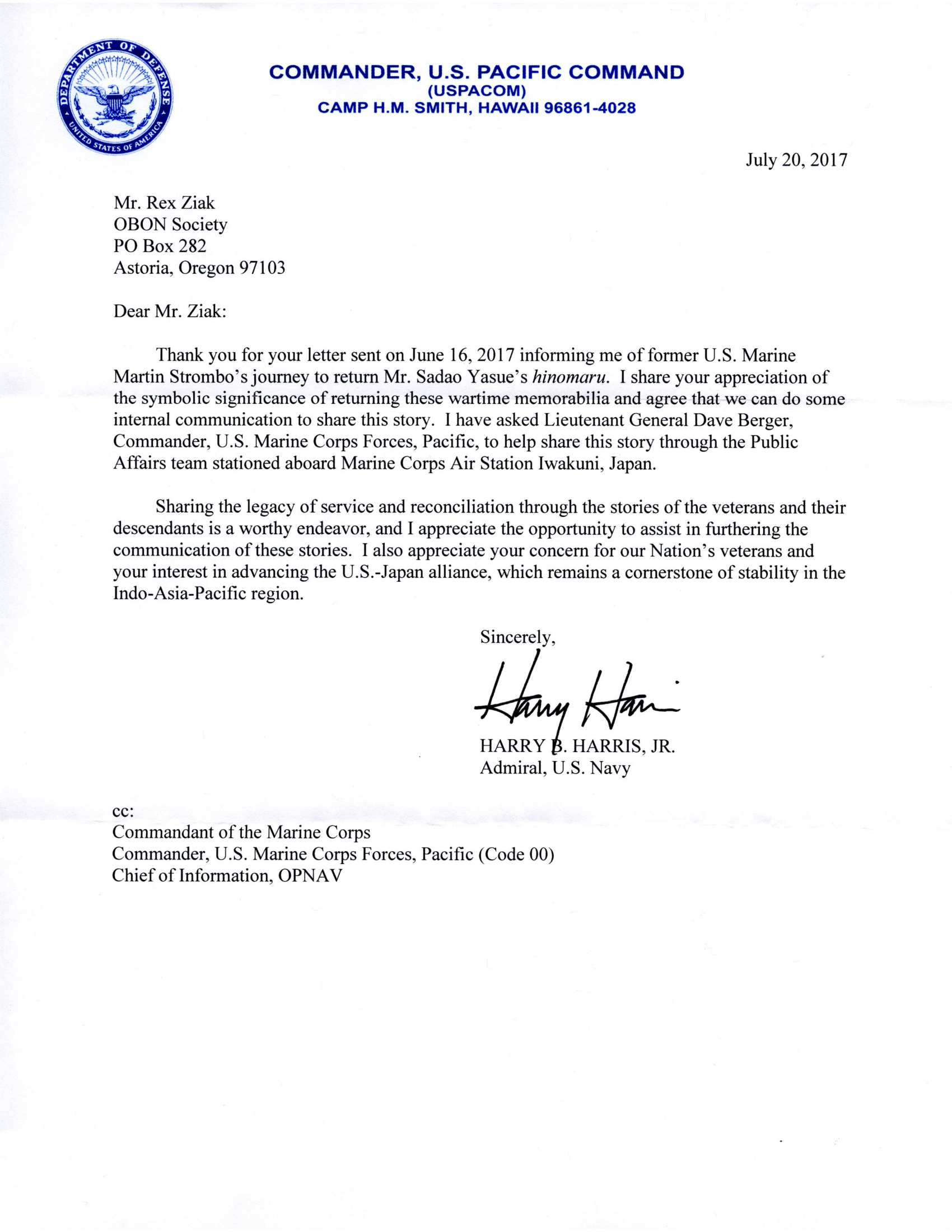 James O'Leary wrote to OBON SOCIETY in 2014 on behalf of Ambassador Kennedy, the American ambassador to Japan at the time. The letter expresses support for OBON's objectives of peace and reconciliation and notes how these ideas were furthered by her father President John F. Kennedy.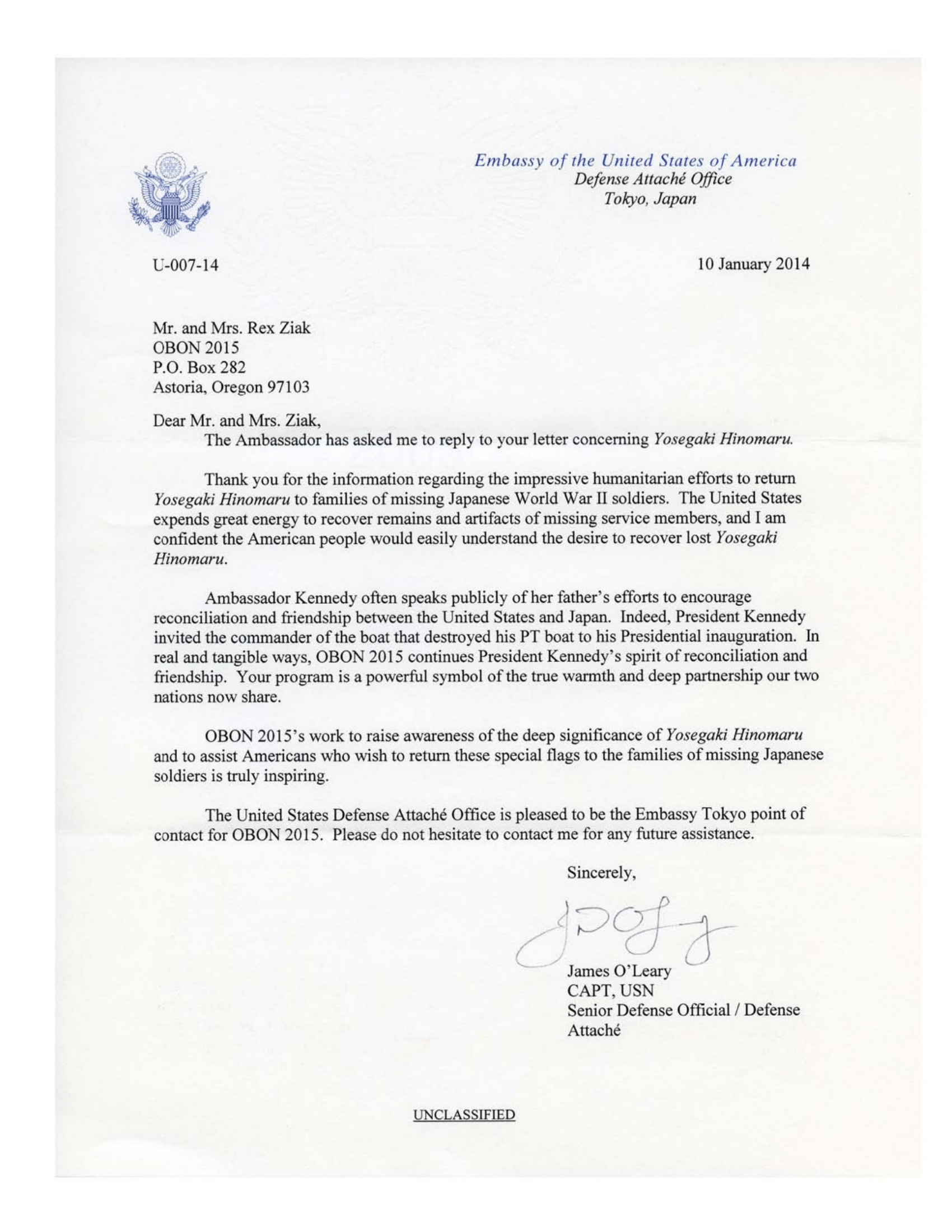 Maria Cantwell, a United States Senator from Washington, thanks Rex and Keiko Ziak of OBON SOCIETY for their achievement in returning Japanese Non-Biological Human Remains to their families. Senator Cantwell focuses on the personal aspect of heirloom return and the bonds that OBON SOCIETY creates and heals through our work.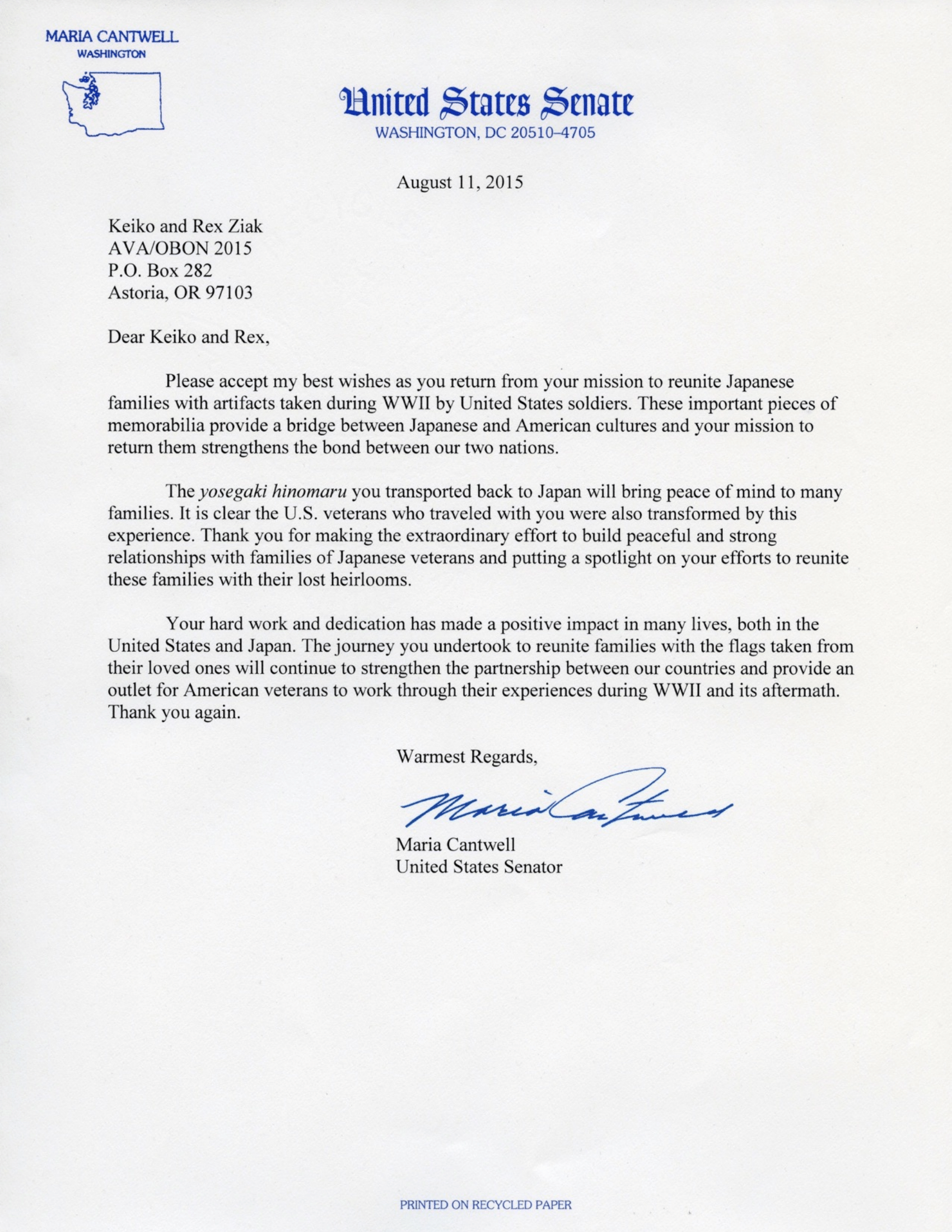 Dianne Feinstein, a United States Senator from California for nearly 30 years, thanks and congratulates OBON SOCIETY on our effort to help "many American and Japanese families begin the process of acknowledging and healing the pounds of war". She acknowledges and endorses OBON's work in her letter.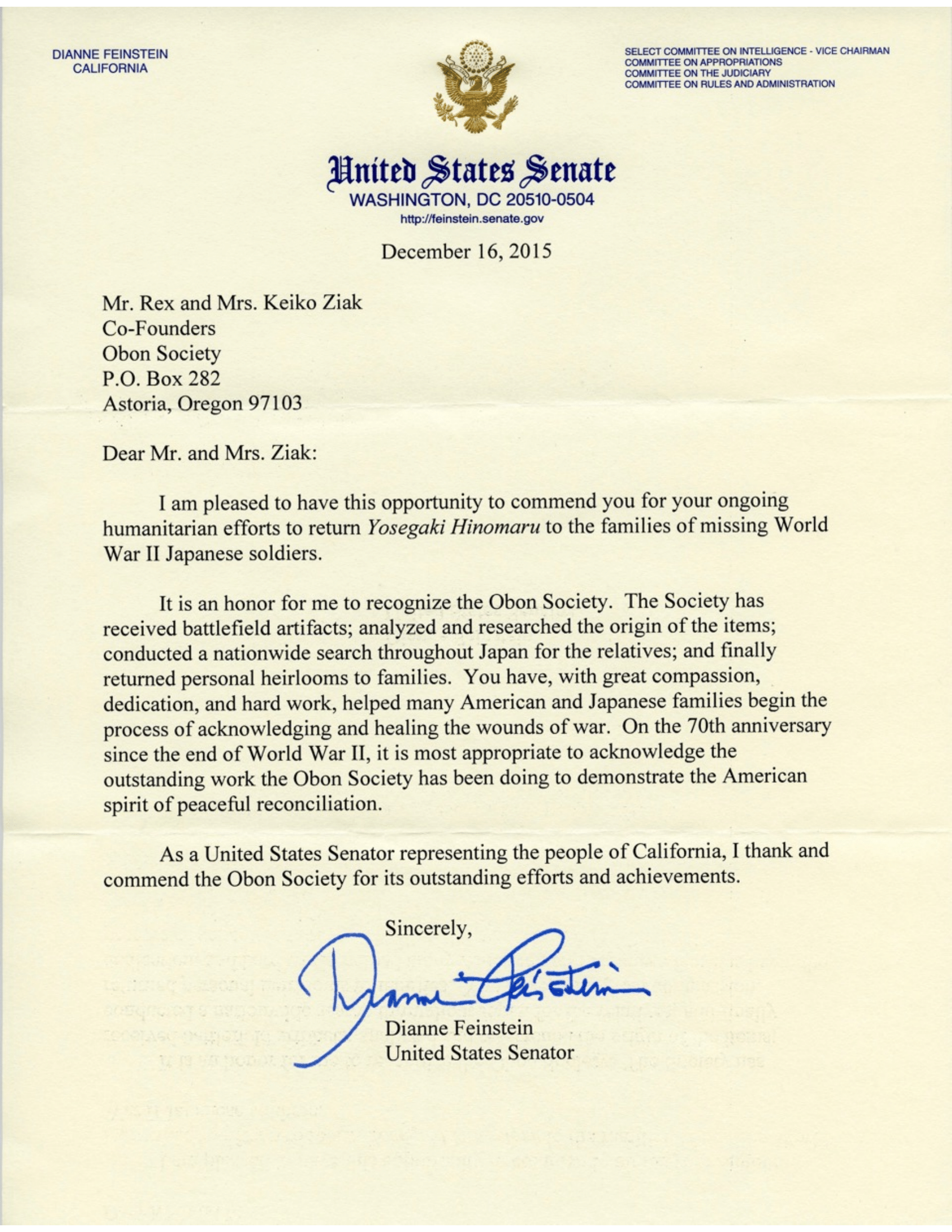 In 2016, the Consulate-General of Japan in Seattle, WA honored OBON SOCIETY in honor of the 70th anniversary of the end of WWII. The Foreign Minister's Commendation was awarded to OBON SOCIETY in recognition of OBON SOCIETY's work for reconciliation and peace between the United States and Japan.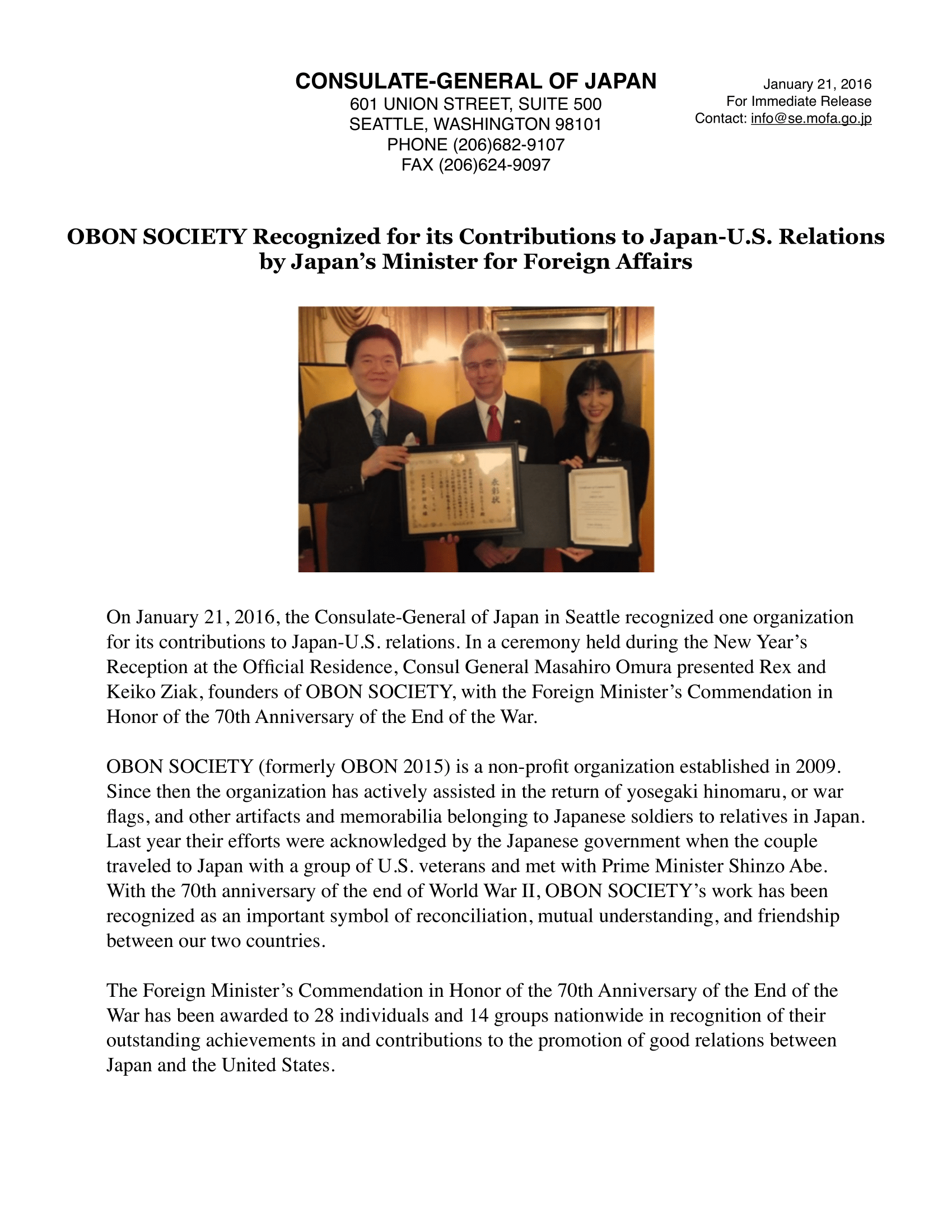 Nippon Izokukai is the War-Bereaved Families Association in Japan. Their partnership with and endorsement of OBON SOCIETY since 2014 has been instrumental to our work. Nippon Izokukai's advocacy for the activities of OBON SOCIETY has led to a partnership with the Ministry of Health, Labour and Welfare to extend information about our cause.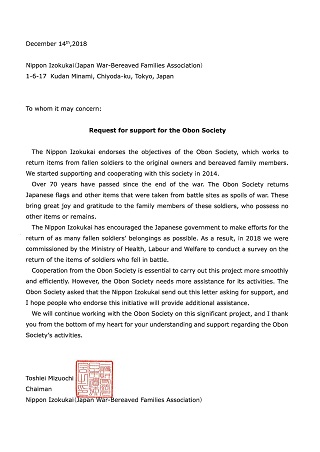 The American Defenders of Bataan and Corregidor Memorial Society (ADBCMS) were instrumental in the efforts of OBON SOCIETY to return a Yosegaki Hinomaru (Non-Biological Human Remains) from the New Mexico Military Museum. Americans and Filipinos who survived the Bataan Death March, the result of Japanese victory in the Philippines, as well as their children, grew up with an extreme dislike of the Japanese. ADBCMS now works for reconciliation. Part of that reconciliation has been their support of OBON SOCIETY.
OBON SOCIETY has been endorsed by Omi Asako, the Parliamentary Vice-Minister for Foreign Affairs of Japan. Rex and Keiko Ziak, our founders, were able to meet and communicate the need for reconciliation between Japan and the United States, as well as personal peace between Japanese and American veterans.